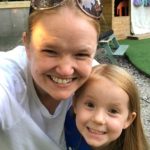 Name: Hannah Tomlinson
Position: Corporate Support Officer
What do you do at Viaduct Care? My role is mainly focused on HR, specifically recruitment and staff training.
What relevant experience did you have before taking up this role? Healthcare-wise, I temped at the CCG for about 9 months. With regards to HR, not a lot. Recruitment was crazy when I started so I went in at the deep end and learnt as I went along.
What is your favourite Film or TV show? The West Wing. I'm not so much into American politics but the characters and screenplay are amazing.
If you were a superhero, what superpower would you have? Invisibility… for when you just need some time to yourself during a chaotic day… and also just to be able to creep up on people and scare them!
What do you like to do in your spare time? If I'm not spending time with my 4 year old daughter, Anwen, I like to go running and I like to read too, especially crime thrillers.
You have been asked to choose a country to spend six months in. Where would it be? Wales… the best country in the world 🙂 It's where I grew up, and will always feel like home. It's so so beautiful too!
Do you have any funny jokes or quotes you can share with us? Knock Knock… Who's there? Hannah… Hannah who? Hannah partridge in a pear tree!
What book would you recommend for having a positive impact on your life? Hmmm, that's a tough one in terms of one having a positive impact. I'll go with Harry Potter – the whole series. They're not just for kids, and in amongst all of the magical fantasy there are strong messages about being true to yourself and the importance of love and friendship.
What musician would you most like to meet and why? Dolly Parton, just because she seems very cool and we could do 9 to 5 on karaoke!
What is your closest brush with fame? I was interviewed for Setanta Sports News (remember that?!) outside Old Trafford to speak about Ronaldo after he winked when Rooney got sent off in the 2006 World Cup.